Contact Swept Away Cottages

We'd love to hear from you. Get Swept Away with Island Hospitality!
Toll Free: 1 (877) 963-2929
Local: (902) 963-2929
You can visit our Rates and Reservations page to check availability or make a reservation.
Request Reservation - Click Here
Reservation Request
Please complete this form and we'll get back to you to set up a reservation. Please note that this is a request form. We'll contact you to finalize and confirm your reservation. You can also call toll-free: 1 (877) 963-2929
Directions
40 Simpson Mill Road
Cavendish PE C0A 1N0
Co-ordinates are N 46′ 28.657 W 063′ 25.068
There are several scenic routes from both the Confederation Bridge and the ferry. Here are the routes that we feel are the most direct routes to our cottages.
Please drive safely. If you should get turned around, please give us a call, or if stopping and asking for directions tell them you are going to the old drive-in theatre property in Cavendish or it's near the Cows Ice Cream at the Cavendish Boardwalk. (Most Islanders know where at least one of those are located.)
Our Co-ordinates are N 46′ 28.657 W 063′ 25.068
Directions From Confederation Bridge
Follow Rte. 1 onto Rte. 1A – Heading towards Summerside. Follow through for about 19 kms. You'll cross a small bridge called Dunk River. Take the first right onto Rte. 8 (Freetown). Follow this and you'll come out at Hwy. 2. Turn right and go about 2 kms and take the first left onto Rte. 254 (Rattenbury Rd). (Please note that 254 also runs south onto the Mill Rd. this will take you back to the bridge.) Follow the Rattenbury Rd. until the very end. You will come out at Rte. 6. Go straight and we are the second right turn at Simpson Mill Rd.
Directions from Wood Islands Ferry
Once you have arrived across the Ferry go Northwest onto the Trans Canada Highway 1. Follow #1 until you come to Hwy. 2 (approx 27 miles). Follow Hwy. 2 – heading Northwest towards Summerside/Kensington for about 11.5 miles until you get to Hunter River. You'll see signs for Rte. 13. Follow #13 for 4 miles. You'll see signs for St. Ann's/Stanley Bridge. Turn left onto Rte. 224. Follow #224 for 4 or so miles. You'll see signs for St. Ann's Lobster Suppers. Keep going and you'll see a sign for Simpson Mill Road on the right hand side. Turn right onto Simpson Mill Road and follow it almost to the end. We are on the right hand side.
Should you miss the Simpson Mill Road, you'll come to Stanley Bridge. You'll see a service station on the left. Take a right onto Rte. 6.  This will lead you into Cavendish. We are the 2nd right turn from the service station. We have signs on Rte. 6 and at our entrance.
Subscribe to Mailing List
From time to time, we'll send you our latest vacation packages and other vacation news. You can unsubscribe at any time.
Property Map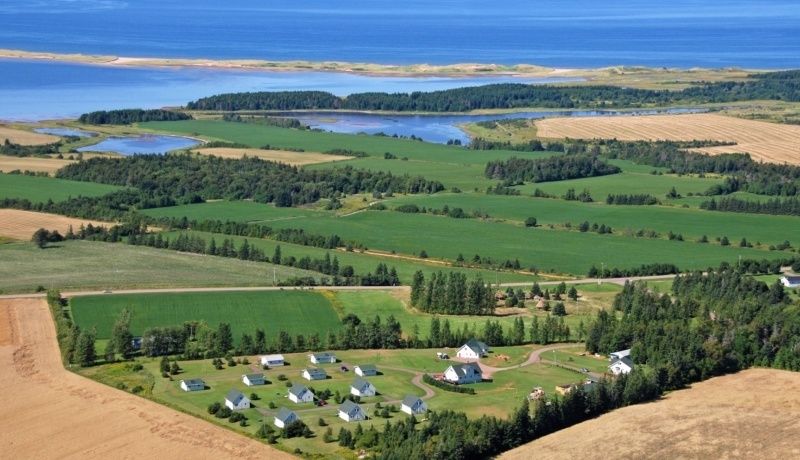 Have you stayed with us?
Leave a review on Trip Advisor.

"We LOVED this place! My daughter loved having a fire each night at the pit, cabins were comfortable, the lady at the desk and the owners ere very nice, and it was just peaceful. We may have a new family tradition of staying there each year. I would recommend them in a heart beat!"
Ian R.