Our Story
2021 marks Cavendish Bosom Buddies Cottages & Suites' 33rd year in operation. Today, the property is owned and run by Kenny and Tracey Singleton. Tracey is the daughter of Ron and Ada Peters, who first opened Cavendish Bosom Buddies in 1988. The Singletons continue to carry on the Peters' tradition of providing Island hospitality and a family-friendly environment in the heart of Cavendish. Tracey and Kenny, along with their young triplets, MacKenzie, Matt and Lexie, welcome you to their slice of heaven on the North Shore.
About that Name . . .
Are you familiar with the story of Anne of Green Gables? Ada Peters certainly was. In fact, it was Ada's love for the precocious red-headed orphan that inspired her to name their family cottage business Cavendish Bosom Buddies when it opened in 1988. Lucy Maud Montgomery captured the magic friendship between Anne Shirley and her best friend, Diana Barry in her famous novel and immortalized the term 'bosom buddies' to describe their special bond. It is a fitting title for this Cavendish retreat where guests arrive as strangers and leave as friends.
The History
With their 4 children (Rhonda, Tracey, Michelle and Brodie), Ron and Ada operated the Cavendish Bosom Buddies together for 15 years and built a strong reputation for providing genuine Island hospitality, friendly service and immaculately clean accommodations. After Ada's passing in 2003, Ron Peters continued to run the business until 2012, when he passed the torch on to Tracey and Kenny.
Continuing a Family Tradition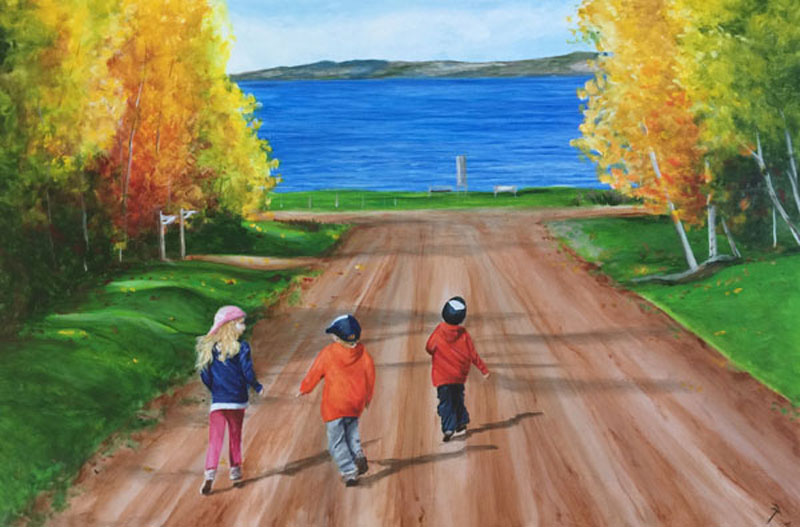 Since 2013, Tracey and Kenny have carried on the legacy started by Tracey's parents decades earlier.  By the time they began operating Cavendish Bosom Buddies, both Tracey and Kenny had developed a wealth of business knowledge, as well as a love and appreciation for the Island's vibrant tourism industry.
Tracey holds a Bachelor Degree in Tourism & Hospitality Management from Mount Saint Vincent University in Nova Scotia and has spent her entire career working in tourism and hospitality in New Brunswick and Prince Edward Island. Kenny also has a passion for business and tourism, and has operated Bosom Buddies' sister company, PEI Dream Cottages Inc., for over 15 years.
Greetings from your Hosts, The Singletons
Hello and welcome to Cavendish Bosom Buddies! We look forward to welcoming vacationers, returning and new and hope you feel at home during your stay. Bosom Buddies is a place where kindred spirits come together to connect, rejuvenate, and create new and lasting memories.
As parents ourselves, Bosom Buddies has taken on a whole new meaning which reflects the strong bond, connection and friendship that binds our triplet children. It also remains a treasured gathering place for our family and friends, who have spent many weekends here at the cottages over the past 25 years.  We hope you'll find it as fun and magical as we do!
Yours in hospitality,
Tracey, Kenny, MacKenzie, Matt & Lexie