FAQ's
We have compiled a list of FAQ's – should there be anything you wish to add to this section, please let us know.
How far away is the beach?
From the main gate of the cottages to the main entrance to the West end of Cavendish Beach is approx. 1500 ft. It takes about a minute to drive there and about 10 mins to walk. From the main entrance to the beach itself would be an additional 10 min. walk.
Do you have to pay to enter the Beach area?
A family/group pass for the National Park costs approx. $17.00 per day.  For your convenience, we now sell National Park passes at the office.
Can you see the ocean from the cottages?
Yes you can, however, the ocean is in the distance. We are not located right on the beach.
How big is the property and the cottages themselves?
Swept Away Cottages is 11 acres in size. Each of the executive cottages is 24 x 28 two stories high. Each of the standard units are 24 x 26 and are single story. Each cottage sits 100 ft apart from one another side to side and 125′ apart from one another back to front. Leaving loads of room from your neighbors and room to play.
Are there Laundry services available on the property?
Located in the main office area is a private entrance for guest laundry. There you will find 2 washers and 2 dryers for guest use. These are coin operated at $1.50 per load. You may provide your own laundry detergent and fabric softener.
Are pets permitted on the property?
Yes certainly, but please inquire about our pet policy, as much as we enjoy our pets, there's some restrictions that they need to adhere by.
Are trailers or tents allowed on the property?
Swept Away Cottages does not allow trailers or tents to be parked overnight on the rental property.  Please note: there are 4 excellent campgrounds close by.  Unfortunately, there are no exceptions to this policy.
Are visitors permitted?
To provide proper safety & security for our guests, we ask that all visitors during your stay, register with us at the front office.  All visitors must vacate the property by 9:00 pm.
What items do we need to pack for our vacation?
All linens, towels, cooking utensils, etc have been provided for your stay. We have various toys, games, and books for the children to borrow. Should you wish to pack your bikes, there's lots of space for them to ride or there's a trail across the street from the property to explore. There are grocery stores & a liquor store available within a few minutes of the cottages. So pack lightly and remember your sunscreen and join us for a fun-filled summer vacation.
What time is check in and check out?
Check in after 4 pm – Check out 10 am.
Subscribe to Mailing List
From time to time, we'll send you our latest vacation packages and other vacation news. You can unsubscribe at any time.
Property Map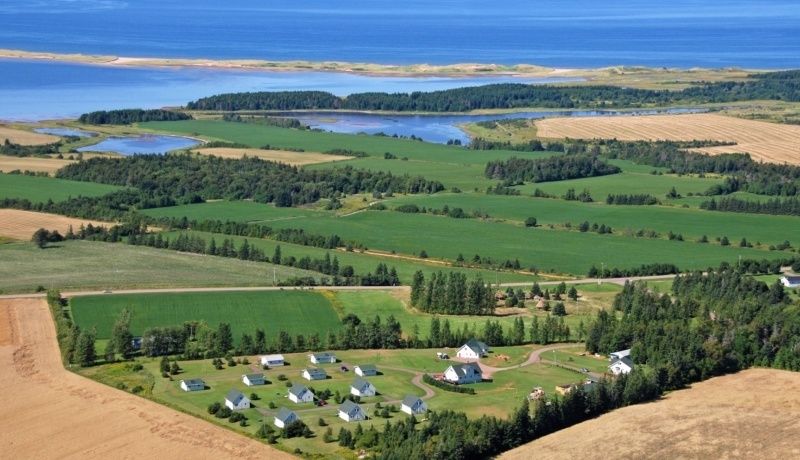 Have you stayed with us?
Leave a review on Trip Advisor.

"We LOVED this place! My daughter loved having a fire each night at the pit, cabins were comfortable, the lady at the desk and the owners ere very nice, and it was just peaceful. We may have a new family tradition of staying there each year. I would recommend them in a heart beat!"
Ian R.